This week, my little munchkin celebrated her half-birthday!!!
Here are some of the things that Lucy loves these days:
*Her exersaucer
*Her jolly jumper
*Eating real food (We are doing Baby-led weaning, more on that in a minute)
*Not
sleeping through the night (ha ha)
*Her big sister
*Her baby swing outside
*Reading stories
*Bath time
*Tickles and "flying"
*Music
She is 20 lbs, 74 cm and growing like a weed. She is wearing mostly 12 month clothes, or 6-12 month shirts. She is sitting up on her own, but falls over occasionally. I think she'll be crawling in the next month or two for sure. She has her two front teeth and I think she's working on some more of them :)
We started baby led weaning last Wednesday, and so far, Lucy has tried green beans, sweet potato fries, steamed carrots, cucumber, steamed broccoli, squash, potatoes, chicken, turkey burgers, roast beef, zucchini, oatmeal, banana and avocado. She loved the sweet potato and carrots and broccoli and loves most of the meat too. It is really entertaining to watch her feed herself, and I am loving this journey so far. Here she is eating a few of her first meals:
This whole gig as a mom of 2 is
very
tiring some days, especially because Brian has been working a lot and is often tired when we see him (understandably, but I am too). Molly is getting a lot better at playing independently, and her current favourite activity is drawing on a whiteboard. I'd say she easily does this for at least an hour or two every day. She also still loves to read, and she loves
this board game
which she got as a birthday present from Brian's aunt. (She even plays it with her puppy sometimes which leaves me free to do something else too!)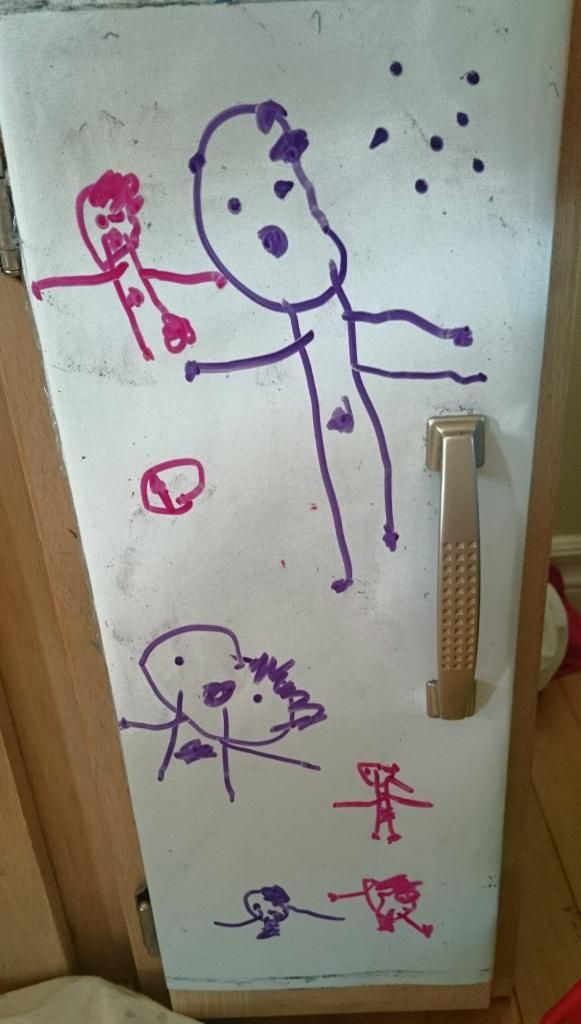 Molly's family :)
I am still working on my physical health, although I feel OK energy wise considering my sleep schedule. I am eating a "meal" about every 2-3 hours and Molly eats that way too (Lucy is just eating meals 2x/day and breastfeeding about 5 times a day and at night). I try to get exercise in 4 times per week, usually with Molly or going for a run when Brian gets home. I know it is going to take a serious commitment to lose the rest of the pregnancy weight, but I am hoping to feel less snug in my clothes come Christmas time. This week, we are having salads in a jar for lunch:
I also need to work a bit on my mental health in the sense that I need some time to relax each day. I find if I take 10 minutes to read before bed or do something for myself after the girls are in bed, I really feel a bit better about everything. Self-care is so important and it's something that us mommies tend to forget about sometimes!!! Brian got me a 10-class pass at our local gym to go to some classes too but I haven't had the opportunity yet. I need to get better about pumping for Lucy!
It goes without saying that I am desperately excited for a double date night with my sister and her husband this weekend and a girl's night supper next week. <3 Adult conversation ;)